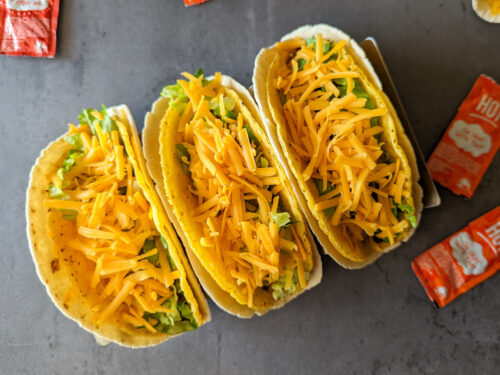 Taco Bell has earned its reputation as a beloved fast-food chain with a diverse menu that caters to a wide range of taste preferences. Over the years, certain menu items have risen to fame and become favorites among loyal customers. In this article, we'll explore the most popular menu items at Taco Bell, delving into the flavorful creations that have captured the hearts and taste buds of countless food enthusiasts.
Below, you'll find the current prices for most popular items at Taco Bell:
Food
Price

Taco Bell Popular Menu Items and Prices

3 Crunchy Taco Supreme Combo #3
$6.82
3 Doritos Locos Tacos Combo
$9.92
3 Doritos Locos Tacos Supreme Combo
$11.27
Cheesy Gordita Crunch
$4.17
Quesarito
$3.28
Nachos Bellgrande Combo #5
$7.01
Mexican Pizza Combo #4
$8.14
Fiesta Taco Salad Combo #15
$7.08
Crunchwrap Supreme
$4.62
Quesadilla
$4.82
Meximelt
$3.43
Chicken Quesadilla
$4.76
Crunchy Taco: A Timeless Classic
The Crunchy Taco stands as an iconic symbol of Taco Bell's legacy. Simple yet satisfying, it features a crispy corn tortilla shell filled with seasoned ground beef, crisp lettuce, real cheddar cheese, and topped with tangy taco sauce. This combination of textures and flavors has made the Crunchy Taco a consistent top seller and a go-to choice for Taco Bell fans of all ages.
Doritos Locos Tacos: A Game-Changer
When Taco Bell introduced the Doritos Locos Tacos, it caused a sensation in the fast-food world. This groundbreaking creation features a crunchy taco shell infused with the bold and familiar flavors of Doritos Nacho Cheese chips. Filled with seasoned beef, shredded lettuce, and cheddar cheese, the Doritos Locos Tacos became an instant hit, captivating the imagination of customers seeking a unique and flavorful twist.
Cheesy Gordita Crunch: A Perfect Fusion
The Cheesy Gordita Crunch is a true masterpiece of fusion cuisine. This mouthwatering delight boasts a soft flatbread, warmed to perfection, hugging a crunchy taco shell. It's filled with seasoned beef, shredded lettuce, cheddar cheese, and topped with a combination of spicy ranch sauce and melted three-cheese blend. The Cheesy Gordita Crunch has garnered a massive following for its harmonious blend of textures and flavors.
Nachos Supreme: An Irresistible Shareable
The Nachos Supreme is a crowd-pleaser and a perfect option for sharing with friends or family. A bed of crispy tortilla chips is generously topped with seasoned beef, refried beans, warm nacho cheese sauce, diced tomatoes, and dollops of sour cream. This indulgent creation is a favorite choice for those seeking the ultimate comfort food experience.
Quesarito: The Ultimate Indulgence
The Quesarito is a heavenly indulgence that brings together the best of both worlds: a burrito wrapped in a quesadilla. A warm tortilla envelops seasoned rice, savory beef, creamy chipotle sauce, and reduced-fat sour cream, all hugged by a melted cheese quesadilla. This decadent option has captured the hearts of food enthusiasts who crave a rich and satisfying treat.
What's your favorite Taco Bell dish?
Taco Bell's menu is a treasure trove of culinary delights, but certain items have emerged as clear favorites among customers. The Crunchy Taco, with its timeless simplicity, remains a classic choice loved by many. The innovative Doritos Locos Tacos has redefined fast-food experiences, while the Cheesy Gordita Crunch showcases Taco Bell's skill at fusion cuisine.
The Nachos Supreme offers a satisfying shareable option, perfect for gatherings, and the Quesarito brings an indulgent and harmonious combination of flavors to the table. Whether you're a long-time Taco Bell enthusiast or a curious newcomer, exploring these most popular menu items will undoubtedly leave you craving for more. So, the next time you visit Taco Bell, consider trying one of these all-time favorites for a taste experience that has won the hearts of countless foodies worldwide.
To know more about Taco Bell's menu prices, please visit their official website.